Car Removals Brisbane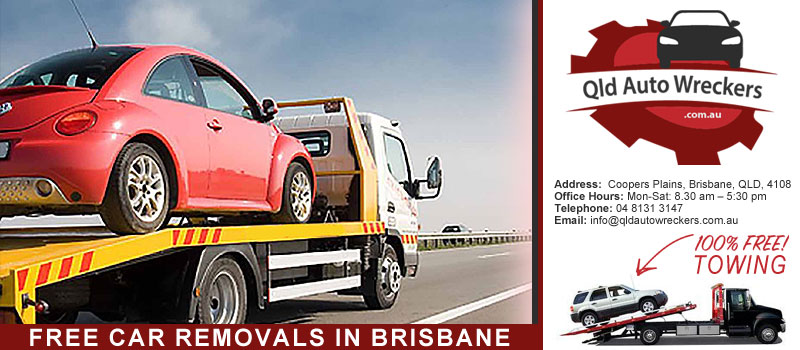 QLD Auto Wreckers is the leading car removal & car wrecker company in Brisbane with best deals for us. In the 21st century, it is a trend and necessity to update our technology on a regular basis. Either it can be a smartphone or a car. On the other hand. We don't like to use anything for the long term. Due to its reduction of quality and overall appeal by daily usage.  A car, after extended use, reaches its scrap value. An old and damaged car requires lots of space to park in your house. And it is tough for you if you haven't enough parking area in your garage.
Car Removal, Brisbane, make a sound amount of cash for unwanted cars
Then we feel the necessity of old car removals professional to help us out. But it is desirable to choose when you find a company who will dispose of your car quickly. And also pay you for your accidental vehicle. Wreckers Brisbane is best for this purpose, and they are dedicated enough to satisfy their client, and you don't have to rush anywhere, they will come to your place to provide you with their service, to deal with them all you need to keep your driving license and legal identity proof of any state in Brisbane.
What the and how bad the condition of your car, no matter, they will buy it.
Why you choose us for your car removal?
Let take a look at the benefits of taking car removal service from QLD Wreckers:—
Firstly, it can be a good source of money for the financing of your next car without paying a penny you can dispose of your damaged car and can make money at the same time.
An accidental car can cause harm to you while driving it, is not safe to drive it again. And in this condition, you have to store it in your house which will take lots of space and you cannot use that space which is problematic to you, in this condition selling of the car to a professional will be the best choice.
If you want to repair it or replace the damaged parts, you have to spend lots of money, and an old car can add extra to your budget for the fuel economy and general maintenance.
Dispose and remove your car without any a headache
With Brisbane Cash 4 Car, you don't have to go with lots of paper works for the removals service. In this era, we have enough experience to provide you with the best service, and we follow the eco-friendly techniques during disposal. Here you don't have to meet with any middleman who can prolong your process.  After we both agreed to each other, we will come to your location in your scheduled time then we will pay you the instant cash before taking away your vehicle an inch.
Get the best amount in Brisbane
We offer the best rates for the vehicle disposal because we sort the useful parts while dismantling the car. We stock and often sell those second-hand parts as per customer's demands any many companies buy second-hand parts for the making of cars.
The wrecking of too much-damaged car
When there is no chance of repair, we go for car wrecking. If we find any functional part we resell it, though we offer Highest Cash Paid for Cars. After wrecking, we sell the crushed material to the metal dealers, who can reuse it by selling to the machine manufacturers, who can make stuff from it.  We buy all types of models condition and brands of cars.
Contact us
To contact us call on the number on our website, and for more details, please visit us.  You can give your contact and vehicle details through a message, we will answer you instantly. Our executives will happily assist you to get the accurate price for your car removals in Brisbane, Acacia Ridge, Logan, Gold Coast, Beaudesert, Toowoomba & Ipswich, and Sunshine Coast.
You might interested in: