Truck Wreckers Brisbane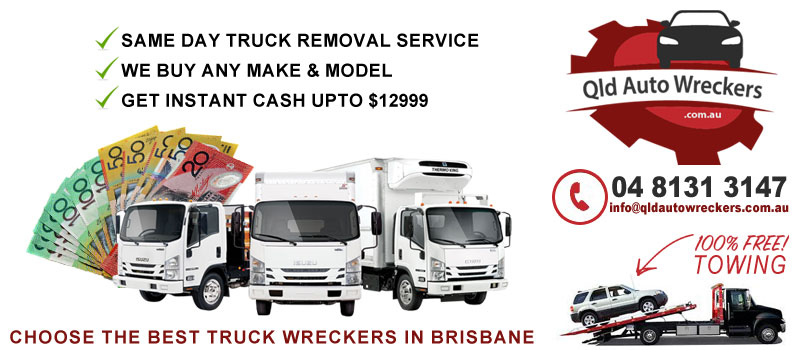 First of all, Are you worried about your damaged truck? If yes, you must get in touch with us. As seen many people don't know the proper concept of wrecking, and this is why they don't know how selling their damaged truck. At Qld Auto Wreckers, we help truck owners to sell their junk truck and to get some money. We are experts and know the value of our clients' time. And we also come to you to pick up your vehicle for free.
Choose The Best Truck Wrecking Company In Brisbane Region, QLD
Auto Wrecker Brisbane offers the best dealing procedure to our clients, and we pay money to our clients on the location.
Enjoy the simple steps of selling trucks
Above all, if you are willing to sell your Unused truck, you should call us on the given number on our website. Because our team members are available 24/7 and they always ready to help you. Our operators will ask you some simple questions about the model, year and the present condition of your truck.
If you are interested in selling your truck, we will also arrange a time and place to pick up your junk heavy vehicle.
Our experts will arrive at your location on time and, they inspect your truck quickly. We remove the truck on our towing vehicles. Before leaving, we will ask you about some paperwork, and therefore we hand over the cash to you.
The leading truck wreckers Brisbane team at Qld Truck Wreckers take less than an hour to buy the truck from the clients.
 Acquire information about our eco-friendly scraping procedure
We always follow the eco-friendly scraping system, and this is why we send the wrecked truck to our scrap yard. A scrap yard, our technicians dispose of the vehicle by using eco-friendly process. At first, we remove useful parts from the truck, and therefore we crush it to make scrap metal.
You must know that scrap metal used for recycling and making new appliances. We are also very conscious of the environment, and this is why we always follow the procedures that are entirely safe for our environment.
Why choose us?
It is true that there are some truck wreckers are available in Brisbane, Queensland. But people should approach a reputable truck wrecker. because we are the leading and licensed truck wreckers in Brisbane that will also help you to sell your damaged truck without any hassles.
The benefits of approaching Qld Wreckers:
We give the cash instantly
We offer a quick truck removal service
QLD Wreckers provide the cash quotes at a free of cost
We provide the maximum price for the wrecked trucks
So, don't waste your time and call us as soon as possible.