Toyota Wreckers Brisbane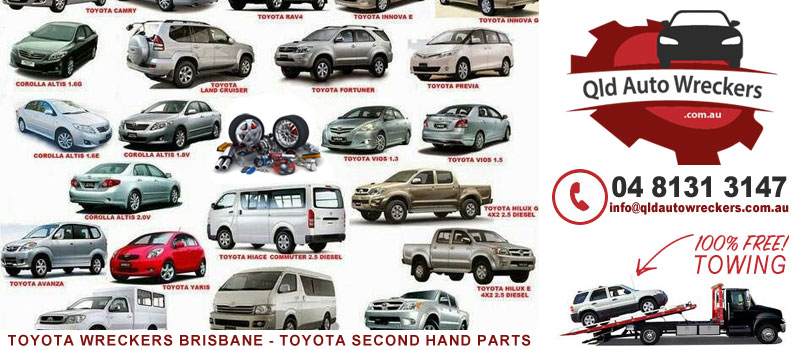 Getting rid of a wrecked Toyota is not like throwing waste materials into the garbage bin. In our years of services as professional Toyota wreckers in Brisbane, we came to know that many people in Brisbane, QLD is suffering from the same problem.
Add value to your wrecked Toyota in our company
Their wrecked cars are taking unnecessary space in their garage. It is not a wise decision to take a longer time for its disposal. Call our company Queensland Wreckers when there is still time, and you can add value to your wrecked Toyota.
Experienced technicians are our true identity
Distinguishing useful parts from completely damaged parts in a Toyota is not an easy task. You may try to do it yourself, but without professional knowledge and expert eyes, it is not possible to calculate the price. So, call our professionally experienced technicians for the inspection of your car to get the best value.
Quality that we like to maintain
Our company, QLD Auto Wreckers is not like the others in the Brisbane, QLD area. We believe in fair dealing and give the optimum value that our clients deserve for their wrecked Toyota. That is what makes us the top-notch Toyota wreckers in Brisbane.
A little glimpse of our working style
After full analysing of your wrecked Toyota by our expert technician, we will decide the price of the car. The amount can reach up to 5 figure sum depending on the condition of the vehicle. As soon as the price related matter will be solved with you, we are going to tow the car to our workshop where our experts will dismantle it. The useful parts are removed and sold for reuse in other vehicles. The rest of the car parts and the metallic body is crushed and sold to metal recycling companies.
One important thing to make sure before selling your Toyota
Our years of service in this field have shown us different types of situations. We have seen that people get emotional during the final deal and refuse to sell their car. Brisbane Car Wreckers understand and respect this feeling, but we like to inform you that it is going to affect the price negatively. So, be sure before giving us a call. You can use the phone number provided on our website to call and contact our experts.
The charges of the car removal service
Mostly, the car removal service will be done free of cost, but some unique situation calls for some fees. The chances of such things are minimal. But, we like to keep our services transparent that is why we are telling about it previously. Our company will pay you on the spot before towing your car if the deal will made. That is another aspect of making our Toyota wreckers in Brisbane the first choice of people.
Be active to get the optimum price
It will found that many people leave their wrecked car in the garage for a longer duration. It will only make the condition of the vehicle worse and decrease its price. So, be active and sell the wrecked Toyota as soon as possible to get the best value. If you have understood what we are trying to inform you then give our company a call today to analyse your car and decide the best price.
Our contact information
You can use the phone number given on our website to contact us. Please do not hesitate in clearing any doubt you are having in your mind regarding our services and company. Our professionals always feel energetic in helping our clients. You can also mail us for further information, and our experts will be in touch with you as soon as possible. We will be waiting for your call.